That is how Chief Medical Officer David Collymore describes the Ramón Vélez Health Center of the Acacia Network.
The site, located at 754 East 151st Street, provides an array of comprehensive health services, including preventive care, HIV care, pediatrics, and dental care.
In an $11 million undertaking, Acacia purchased the building and performed a full gut renovation to create a state-of-the-art complex that opened in April 2016.
"We want to give the community nothing but the best," explained Collymore. "We want to make this the greatest clinic in the state of New York."
Acacia CEO Raul Russi made note of the local demand for critical services as governed by a culturally competent and responsive model of care at the site opening last year.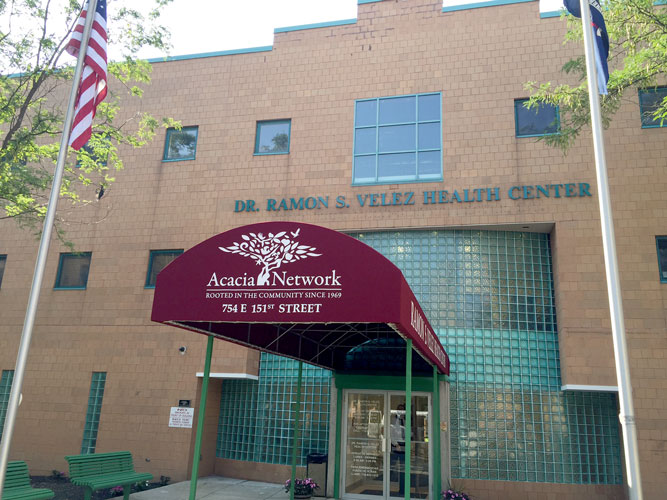 This is precisely why Acacia exists," he observed. "We are always on the ground, answering to the needs of a community that is growing and requires the best care and attention. It is what we do."
At an Open House held this past Wed., July 18th, Acacia administrators and center staffers were on hand to discuss the facility's services and ongoing community engagement efforts.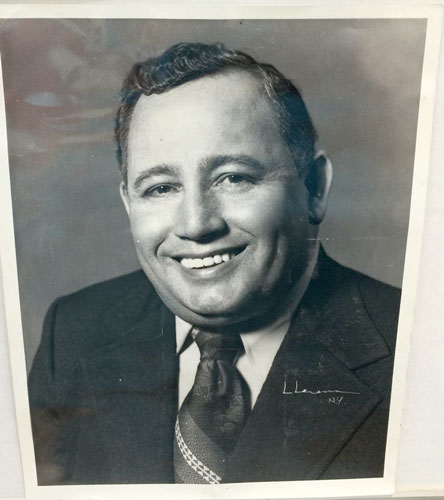 The building once housed the former Hunts Point Multi-Service Center, founded by Ramón Vélez in 1967, which brought essential health services to the surrounding neighborhoods until it closed in 2012.
Vélez, born to a poor farming family in Puerto Rico who would grow to become a powerhouse in the fields of social service, education and politics, established the center as a central hub in the South Bronx for programs that provided healthcare, housing and substance abuse treatment to thousands of residents.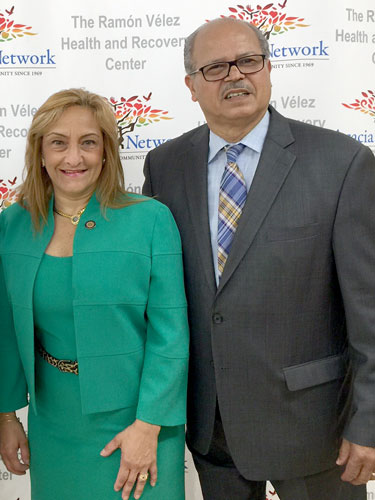 Acacia President Héctor Díaz recalled his long association with the site, as he came to the Hunts Point center to seek a job after leaving the Army in the 1970's.
"This is my home," Díaz remarked. "It changed my life."
Board Chair Milagros Baez O'Toole acknowledged the workers and administrators.
"I want to congratulate the staff," she said. "Thank you for hosting this wonderful event so people can learn about the facility. Ramón Vélez was an incredible man, so we're pleased that this facility is here."
Twiggy Rodríguez, Acacia's Vice President of Primary Care, said the center currently serves nearly 800 patients, with a capacity to eventually handle 6,000.
"Most of our patients tend to be between 40 and 74 years of age, but we are really here to treat the whole family," she said.
Acacia employs a team-based approach to patient care at the Ramón Vélez Health Center, using doctors, nurses, nutritionists, case workers and social workers to assist patients.
Medical Director Dr. Daniel Rosa commented that the center's recovery services are essential for helping to tackle the opioid epidemic, which he said has "run rampant across the nation" and put New York City as the leading locale for opioid deaths.
He remarked that Acacia's ability to offer a host of wraparound services to those in recovery was important factor in their success.
"You have to follow these folks – they need support," Rosa said. "Addiction does not end when detox ends."
The site offers medication-assisted therapies for opioid dependence as well as a chemical dependency outpatient clinic to assist with non-opioid addictions such as alcoholism and cocaine abuse.
Of concern too is that undocumented immigrants in the neighborhood might be less compelled to seek out medical services.
"Often, those individuals fail to seek care, so it can be difficult to ensure positive health outcomes," said Rodríguez.
Administrators say they have sought to break through such barriers by establishing standards that welcome all residents.
All services at the site are offered in English and Spanish, and while the center will accept Medicaid, Medicare and most insurance plans, services are offered on a sliding cost scale and patients will be seen regardless of their ability to pay.
"We don't deny care to anyone," said Rodríguez.
She said she was also proud of the center's Diabetes Comprehensive Program, which provides patients with a multidisciplinary team of specialists to help them live with and manage diabetes.
Acacia's nutritionists work one-on-one with patients to help them eat better and even accompany them to a farmer's market to assist them in picking out fresh fruits and vegetables.
Patient Stanley Cox, 57, has been in the diabetes program for two years. He said his health is greatly improved, and his weight has dropped from 311 to 175 pounds during that time.
"My grandkids used to call me 'pregnant Grandpa' because my belly was so big," said Cox "But now I'm thin, my blood pressure is normal, and I'm not on medication anymore. I feel great."
"You really have a team helping you here," Cox said. "It feels like they're a part of my family."
The Ramón Vélez Health Center is located at 754 East 151st Street, The Bronx, NY. For more information, please call 718.684.9422 or visit www.acacianetwork.org.